Road Runner Sports Adventure Runs!
We're excited to announce that
Team Challenge
is the National Charity during the month of November for Road Runner Sports Adventure Runs! Road Runner Sports is the world's largest running and walking store, and they host free 60-minute scavenger-like fun runs every month.
This November, come out to your local Adventure Run to support Team Challenge. When you sign up online or at the event, simply indicate that you are with "Team Challenge," and a donation will be made from Road Runner Sports on your behalf.
Each Adventure Run has thousands of dollars in free raffle prizes. You can walk, run, or crawl to each checkpoint, and hang around for music and beer after. Team Challenge will be at the following locations in LA/OC on the below dates, and we hope to see you there!
November 7 at 5:00 p.m.
24291 Avenida De La Carlota STE: P-5
Laguna Hills, CA 92653
November 7 at 5:30 p.m.
25359 Crenshaw Boulevard
Torrance, CA 90505
November 21 at 5:30 p.m.
1714 Newbury Road
Newbury Park, CA 91320
November 21 at 5:00 p.m.
1835 Newport Boulevard
Costa Mesa, CA 92627
Please bring a flashlight as the runs take place in the evening. Team Challenge will sell glow sticks for donations at the actual event. To find your local store and signup, visit www.youradventurerun.com.
Burbank Support Group Facilitator's Essay Posted on CNN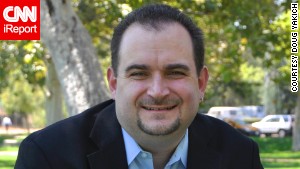 Doug Yakich, our chapter's Burbank Support Group Facilitator, recently posted an essay on CNN iReport titled "
Ostomy, a National Discussion Must Begin
" and it quickly got a lot of attention, including the editors and reporters who work for CNN. On Thursday, May 16, 2013 CNN approved Doug's essay and posted it in an article on the CNN.com homepage, and now in the health section. Read the article
HERE
!
A Team Challenge Participant's Inspiring Story
As Team Challenge gears up for its triathlon season, ulcerative colitis patient, Grant Henry, gets ready for a challenge of his own. Henry aspires to participate in the IRONMAN World Championship with the greatest endurance athletes of all time to raise awareness and funds for Inflammatory Bowel Disease (IBD). Henry entered the world-famous Kona Inspired, a contest that allows individuals to share their stories for a chance to participate in the World Championship.
Henry, a 29-year-old Los Angeles resident, has been battling the digestive disease for over six years. He has endured pain, multiple colonoscopies and extended hospitalizations. After joining Team Challenge and completing the Las Vegas Rock 'n' Roll Half Marathon, he came back as the Greater LA honoree, continuing his support for the program. Henry made it his mission to raise awareness for those that endure the same pain.
"It started when I was 23—I was the epitome of health. Then, in an instant, my life completely changed," says Henry. "I bled a lot and had uncontrollable diarrhea. I have made it my mission to never let my illness stand in my way. I may not be one of the first people to cross the finish line, but when I do, that sense of accomplishment makes me realize that anything is possible."
Henry created a 90 second video titled "From the Bathroom to Kona" sharing his story with the world. He hopes to participate in the IRONMAN World Championship in Kona on October 12 on behalf of those suffering with IBD. To view and vote for his video, click here!
"I have achieved things that I would have never attempted if it were not for ulcerative colitis. Things that I used to say, 'I can't' to are now replaced with 'I can and I will!" says Henry. "I want to encourage others to push themselves, so I am continuing my adventure with Team Challenge to spread awareness."
On September 22, Team Challenge will be participating in the TriRock San Diego Triathlon, raising funds and awareness. For more information on the Greater LA/OC team, please visit http://ccteamchallenge.force.com/.
Join us this season to make a difference, to get in shape, to support a loved one who suffers from Crohn's disease or ulcerative colitis, to make new friends, to lose weight, or even just to have fun! The possibilities are endless!
For more information on the Crohn's and Colitis Foundation of America or Team Challenge, please contact Jessica Dean at 310-694-3343 or jessicad@ccfa.org.
Orange County Support Groups Seeking New Members!
PARENT NETWORK GROUP is facilitated by volunteers, Pamela George and Matt Bays. This group is a great way for parents of children with Crohn's disease and ulcerative colitis to learn more about IBD from world-class healthcare professionals, build bonds with area families, and enjoy group activities together. This group meets quarterly in Newport Beach near Fashion Island, and will have a team at the Take Steps walk in Irvine for any interested families.
SOUTH ORANGE COUNTY GROUP is facilitated by Sheila Rowan and Phil Hering. This group hosts speakers, shares the latest information and offers a supportive environment monthly. Meetings take place at Saddleback Memorial Medical Center in Laguna Hills.
NORTH ORANGE COUNTY GROUP is facilitated by Allison Miller and Darrin Pagenkopp. This group starts out with an icebreaker, hosts speakers, shares support and covers a monthly topic. Meetings take place at Los Alamitos Medical Center. This group also has a voluntary opportunity to join their team, Poo Crew, for the Take Steps walk in June.
Introducing CCFA Greater Los Angeles Chapter's New President of the Board
ANDREW BERMAN
Andrew Berman became involved with CCFA several years ago when he joined the Committee for the "CCFA Golf Classic". He soon became the Chairman of that event and was asked to serve on the Greater Los Angeles Chapter Board of Trustees.
Andrew is a well respected entertainment industry veteran with over twenty five years of experience in sales, marketing, and distribution of entertainment properties to all media worldwide. He has represented all types of properties including theatrical feature films, TV Movies, animated series and specials, documentaries, and music specials. Andrew is currently Vice President of International Distribution for Fremantle Media, the producers of "American Idol," "America's Got Talent," and "X Factor."
Prior to joining Fremantle Media, he headed up a media consultancy firm ARB International that specialized in providing consultation with regards to the marketing and distribution of entertainment programming in all respective Medias. He also served a 2nd stint with TMS Entertainment, Inc. a division of videogame giant SEGA as their Executive Vice President and General Manager of their North American operations. Mr. Berman was the Executive VP for IDT Entertainment Sales. In that capacity, he was responsible for forming the worldwide sales division for NYSE publicly traded IDT Entertainment now known as Starz Media, a division of John Malone's Liberty Media. He oversaw the worldwide sales and distribution for all IDT company produced properties as well as acquired third party product and successfully launched worldwide the acclaimed and Emmy award winning Showtime series "Masters Of Horror."
Andrew also was responsible for the launch of the animated series "Wow Wow Wubbzy" and the successful international theatrical release of the animated feature "Everyone's Hero." Prior to that, he ran the U.S. office and led the worldwide sales efforts for TMS Entertainment, a well-known and distinguished Japanese animation production and distribution company and a subsidiary company of Sega Enterprises. He has also worked in various executive capacities in sales, marketing, and worldwide distribution at such companies as Harvey Entertainment, New World Pictures and MGM. He also has served as a consultant to several foreign distribution companies and was the co-producer of the independent feature film "Moving Alan" which won the coveted Best Feature Film award at the Beverly Hills Film Festival.
Andrew is a graduate of California State University at Northridge with a Bachelor of Arts degree in Radio Television and Film. He resides in Encino, CA with his wife Marci, who suffers from IBD, and their two daughters Lauren and Danielle.