Los Angeles/Orange County Chapter's Executive Director on the Air
Saturday, October 11, 2014 | 4 PM to 9 PM | Bridgeport Park, Santa Clarita
A big THANK YOU to KHTS AM 1220 for having CCFA's very own LA/OC Chapter Executive Director Catherine Erlinger on the air Thursday, October 2, 2014! Catherine did an amazing job promoting IBD awareness and CCFA's mission and programs, including Take Steps Santa Clarita. Join us this Saturday, October 11, 2014 at 4pm at Bridgport Park in Santa Clarita to be a part of all of the festivities.
For more information, please call Walk Manager, Dorit Jacoby at (310) 478-4513 or email her at DoritJ@ccfa.org. There is also more information at the website: www.cctakesteps.org/SantaClarita
Orange County Support Groups Open House
Monday, January 27, 2014 | 6 PM to 8 PM | Los Alamitos Medical Center
Guest Speaker, Joanna L. Fawzy Morales, Esq.
How the Affordable Care Act Affects You and Your Family
This group presentation will cover changes to our health care system, key consumer protections in the Patient Protection and Affordable Care Act (ACA), financial help to buy health insurance, and new health insurance options available under the ACA, including the expansion of Medi-Cal and the state health insurance marketplaces. Presentation followed by Q&A session.
Download flyer
!
Get to know our support group leaders and attendees. Light refreshments will be served. Open to all family and friends of the Crohn's & Colitis Foundation of America (CCFA).
For info, please call Sabrina Irsay's cell at (646) 942-3888 or email her at
SIrsay@ccfa.org
.
Burbank Support Group Facilitator's Essay Posted on CNN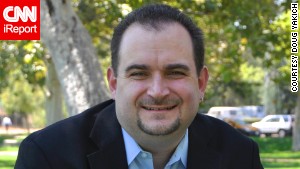 Doug Yakich, our chapter's Burbank Support Group Facilitator, recently posted an essay on CNN iReport titled "
Ostomy, a National Discussion Must Begin
" and it quickly got a lot of attention, including the editors and reporters who work for CNN. On Thursday, May 16, 2013 CNN approved Doug's essay and posted it in an article on the CNN.com homepage, and now in the health section. Read the article
HERE
!
A Team Challenge Participant's Inspiring Story
As Team Challenge gears up for its triathlon season, ulcerative colitis patient, Grant Henry, gets ready for a challenge of his own. Henry aspires to participate in the IRONMAN World Championship with the greatest endurance athletes of all time to raise awareness and funds for Inflammatory Bowel Disease (IBD). Henry entered the world-famous Kona Inspired, a contest that allows individuals to share their stories for a chance to participate in the World Championship.
Henry, a 29-year-old Los Angeles resident, has been battling the digestive disease for over six years. He has endured pain, multiple colonoscopies and extended hospitalizations. After joining Team Challenge and completing the Las Vegas Rock 'n' Roll Half Marathon, he came back as the Greater LA honoree, continuing his support for the program. Henry made it his mission to raise awareness for those that endure the same pain.
"It started when I was 23—I was the epitome of health. Then, in an instant, my life completely changed," says Henry. "I bled a lot and had uncontrollable diarrhea. I have made it my mission to never let my illness stand in my way. I may not be one of the first people to cross the finish line, but when I do, that sense of accomplishment makes me realize that anything is possible."
Henry created a 90 second video titled "From the Bathroom to Kona" sharing his story with the world. He hopes to participate in the IRONMAN World Championship in Kona on October 12 on behalf of those suffering with IBD. To view and vote for his video, click here!
"I have achieved things that I would have never attempted if it were not for ulcerative colitis. Things that I used to say, 'I can't' to are now replaced with 'I can and I will!" says Henry. "I want to encourage others to push themselves, so I am continuing my adventure with Team Challenge to spread awareness."
On September 22, Team Challenge will be participating in the TriRock San Diego Triathlon, raising funds and awareness. For more information on the Greater LA/OC team, please visit http://ccteamchallenge.force.com/.
Join us this season to make a difference, to get in shape, to support a loved one who suffers from Crohn's disease or ulcerative colitis, to make new friends, to lose weight, or even just to have fun! The possibilities are endless!
For more information on the Crohn's and Colitis Foundation of America or Team Challenge, please contact Jessica Dean at 310-694-3343 or jessicad@ccfa.org.
Orange County Support Groups Seeking New Members!
PARENT NETWORK GROUP is facilitated by volunteers, Pamela George and Matt Bays. This group is a great way for parents of children with Crohn's disease and ulcerative colitis to learn more about IBD from world-class healthcare professionals, build bonds with area families, and enjoy group activities together. This group meets quarterly in Newport Beach near Fashion Island, and will have a team at the Take Steps walk in Irvine for any interested families.
SOUTH ORANGE COUNTY GROUP is facilitated by Sheila Rowan and Phil Hering. This group hosts speakers, shares the latest information and offers a supportive environment monthly. Meetings take place at Saddleback Memorial Medical Center in Laguna Hills.
NORTH ORANGE COUNTY GROUP is facilitated by Allison Miller and Darrin Pagenkopp. This group starts out with an icebreaker, hosts speakers, shares support and covers a monthly topic. Meetings take place at Los Alamitos Medical Center. This group also has a voluntary opportunity to join their team, Poo Crew, for the Take Steps walk in June.